---
Health Care Utilization
In recent years there has been an increase in the impact of arthritis and other rheumatic conditions on health care utilization. The rising prevalence of AORC and the resulting increase in ambulatory care visits as well as the increasing number of joint replacements and resultant increase in hospitalizations both result in increased health care utilization. As mentioned above, the AORC case definition is more appropriate to use within the health care system, so the following estimates are based on that. 
Hospitalization
AORC hospitalizations. Data from the Healthcare Cost and Utility Project (HCUP) 2011 Nationwide Inpatient Sample (NIS) estimates 6.7 million hospitalizations that are associated with a diagnosis of AORC, or 17.3% of all hospitalizations that year. Because hospitalization for osteoarthritis (OA) and rheumatoid arthritis (RA) is rare, only about 1% of hospitalizations associated with an AORC diagnoses had this as the presenting, or first, diagnosis. However, arthritis is often a contributing cause to hospitalization, particularly when associated with joint replacement surgery; therefore, most of the 6.7 million hospitalizations were associated with OA, gout, RA, and other less specific disorders. (Reference Table 4.2 PDF [1] CSV [2])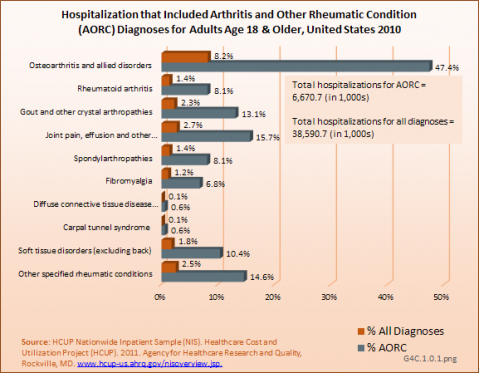 Most AORC-associated hospitalizations in 2011 occurred among women (60%), with gout the only arthritis condition where more men were hospitalized. Although people age 65 years and older comprise only 17% of the adult population, they accounted for 41% of AORC-associated hospitalizations. (Reference Table 4.3 PDF [3] CSV [4]).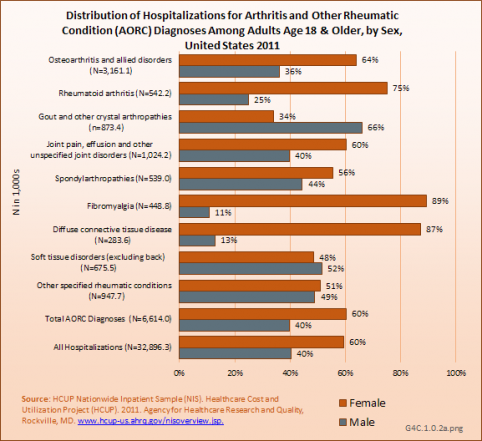 The rate of hospitalization rate per 100 people for AORC-associated hospitalizations was similar men and women. Among the 10 AORC subgroups, hospitalizations rates increased by age most significantly for osteoarthritis and other specified rheumatic conditions. AORC did not differ from all hospitalizations in hospitalization rate by sex, but did differ in the rate by age. (Reference Table 4.3 PDF [3] CSV [4])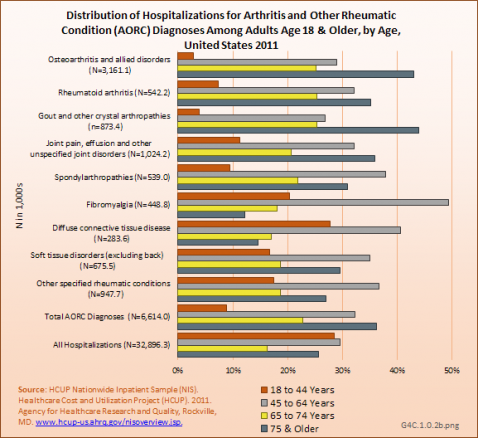 Length of Stay
The mean length of stay for AORC-associated hospitalizations was 5 days, and it did not differ much by sex or age. Compared with all hospitalizations, AORC-associated hospitalizations averaged 1.6 days longer mean length of stay, but was even longer for those aged 18 to 44 years. Among the 10 AORC subgroups, mean length of stay was longer than the AORC average for those with gout, diffuse connective tissue disease, soft tissue disorders, and other specified rheumatic conditions. (Reference Table 4.4 PDF [5] CSV [6])

Hospital Charges
Mean hospital charges for AORC-associated hospitalizations were $5,500 higher than those for all hospitalizations, with the differences driven primarily by females and those younger than 65 years of age. Total charges for AORC-associated hospitalizations were $291 billion, comprising 23% of all hospital charges in 2011. This percentage was relatively consistent for all sex and age groups except those 18 to 44 years of age. Among the 10 AORC subgroups, osteoarthritis accounted for $135 billion, or 46% of total charges for AORC-associated hospitalizations. (Reference Table 4.4 PDF [5] CSV [6])

Discharge Status
Discharge from the hospital to long-term care or home health care occurs more often among AORC-associated hospitalizations than is found among hospitalizations for all causes. This is true regardless of sex or age. Among the 10 AORC subgroups, discharge to home was more frequent and similar to that among all hospitalizations among those with fibromyalgia, diffuse connective tissue disease, and spondylarthropathies. (Reference Table 4.5 PDF [7] CSV [8]) 

Ambulatory Care Visits
Data from the 2010 NHCS surveys on ambulatory care indicate that more than 100 million ambulatory care visits are associated with a diagnosis of AORC, or nearly 10% of all visits that year. An AORC is listed as the presenting (first) diagnosis for between 2.6% and 5.7% of all visits listed, depending on the health care site visited. Physicians' offices accounted for 84% of all ambulatory visits, greatly exceeding emergency department or outpatient sites. Among the 10 AORC subgroups, most of the 100 million visits were associated with unspecified joint disorders and other specified rheumatic conditions; osteoarthritis was the most common specific condition. (Reference Table 4.2 PDF [9] CSV [10])

---
Links:
[1] https://bmus.latticegroup.com/docs/T4.2.pdf
[2] https://bmus.latticegroup.com/docs/T4.2.csv
[3] https://bmus.latticegroup.com/docs/T4.3.pdf
[4] https://bmus.latticegroup.com/docs/T4.3.csv
[5] https://boneandjointburden.org/docs/T4.4.pdf
[6] https://boneandjointburden.org/docs/T4.4.csv
[7] https://boneandjointburden.org/docs/T4.5.pdf
[8] https://boneandjointburden.org/docs/T4.5.csv
[9] https://boneandjointburden.org/docs/T4.2.pdf
[10] https://boneandjointburden.org/docs/T4.2.csv